Stairlifts
Move around your property with ease when you take advantage of the stairlift design and installation solution we provide. With a comprehensive range of stairlifts available, including straight and slimline, we are guaranteed to have an option suitable for you.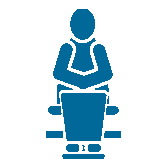 Straight Stairlifts
Accommodating all your needs, we have a range of straight stairlifts available which are suitable for almost any situation, including stairlifts with a folding hinge track which are perfect for properties where space is a premium, and we also offer an assortment of swivel seat stairlifts. Curved Stairlifts
Trust our dedicated and proficient team to design and install a bespoke curved stairlift in your property. Conducting an in-depth consultation with you, we assess your needs and carefully measure the space to provide the most suitable stairlift.
Established as a local, family-run business more than 20 years ago, Alfix is ideally situated to provide a solution for all your stairlift requirements. Whether it is a complex, bespoke designed and manufactured curved rail stairlift serving several floors, or a simple straight stairlift installed on a rental basis, we have a vast range of systems available.
We draw on many years of combined experience to ensure that we supply and install the optimum stairlift for your needs. We have slimline systems for narrow stairs, and unique custom-built systems to overcome access difficulties on difficult staircases.
Based in Leamington Spa, Warwickshire, and serving the surrounding areas, we are committed to providing bespoke stairlift solutions that give you independence. Get in touch with our expert team at our stairlift company today to discuss our assortment of products.
We offer individual consultancy appointments, free of charge, and with no obligation. The appointments allow us to assess your needs and ascertain which stairlift is the most appropriate for the design of the staircase. Alongside this, we also consider other factors, such as your budget. From here, we select from a broad range of options to supply and install the best stairlift for the situation.
We draw from a wide range of stock in our warehouse, with options on new stairlifts, slightly used stairlifts, and reconditioned options for both straight and curved rail systems available. We provide various payment options, and we have a wide range of budget stairlifts available.
We offer a dedicated, personal service, and as we are an independent family-run business, we provide advice on which of our range of modern stairlifts is the most suitable for your needs. Moreover, we provide full aftersales maintenance and support, providing service, breakdowns, and even loan stairlifts.
Please call us to discuss your needs as we are confident that we will provide the right stairlift solution for you. We are happy to give you independent advice and a no-obligation quotation. Here at Alfix, we take the time to care and are here to help you!
"It was so kind of you to come to my rescue last week and mend the stairlift before my sister-in-law came home. She certainly couldn't live there without it. Please thank Sam for coming out in the evening like that. We really appreciate your marvellous service."
Mrs S in Oxford
"My wide has found the installation an absolute revelation, and we are more than happy to join your band of very happy customers"
Mrs H from Birmingham
"We are absolutely delighted with it! Thank you so much"
Happy customer in Shipston
"Thank you!! Two little words cannot really express our total satisfaction and gratitude to Alfix for everything!"
Mr C from Worcester
"My chairlift seems very happy and well, thanks to your quick response. Thank you Sam for your cheerful expertise."
Mrs S from Stratford